2023 m. Šiaulių Didždvario gimnazijos radijo stotyje Radijo klubas savanoriauja Arshaluys Barseghyan (Armėnija) ir Nini Shaorshadze (Sakartvelas).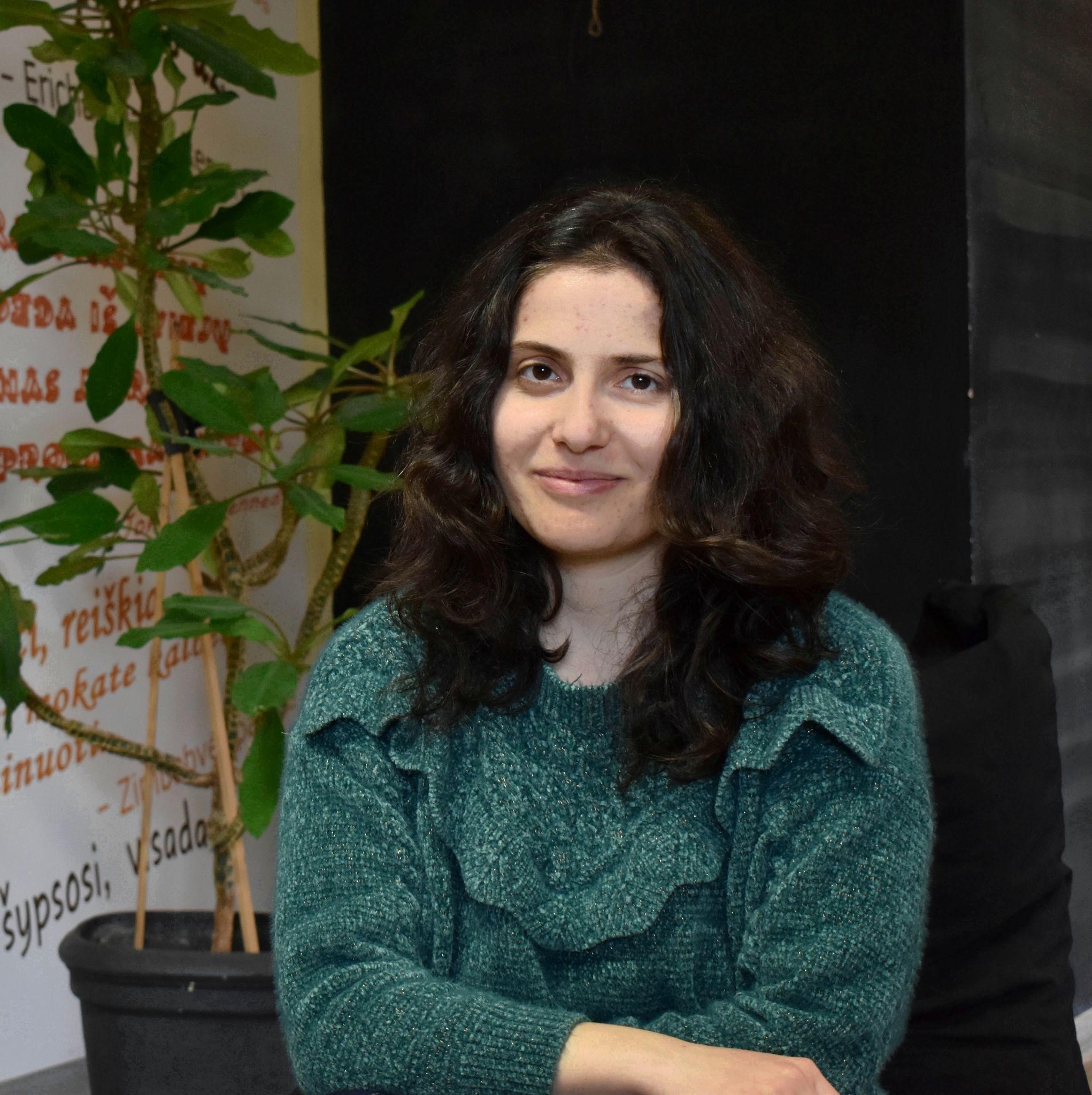 I am Arshaluys from Armenia. I am a journalist with 6+ years of experience, during which I made stories in different formats and covered various issues, such as human rights, public health, conflict etc. Moreover, since 2019 I have been more focused in fact-checking journalism and I have shared my knowledge and skills in fact-checking and media literacy as a trainer.
I am passionate about photography, traveling and podcasts. Which means in the upcoming year I am planning to capture the beauty of Lithuania and other countries I will have a chance to visit and to create radio shows/ podcasts at Radijo Klubas.
In case you are interested to learn more about the country I come from, here is some brief introduction in one sentence. Armenia is a small and ancient country in the South Caucasus with its unique language and alphabet, which can offer you delicious food, wine and brandy, splendid mountain views and magnificent medieval monasteries.
Sometimes it's hard to introduce yourself, because you know yourself so well, but you don't know where to start. But it's okay, I'll start.
I am Nini Shaorshadze, from Georgia, not so funny and not so boring. I'm not the type of person who has a positive attitude towards all aspects of life, but neither do I have a deeply tragic and depressed nature. Although I love to think and dream, I don't lose the perception of reality. I like to be alone, but there are moments when I like to be surrounded by people. I love quiet places to live and also exploring bustling cities. Simple things don't make me happy, I might feel like that, but it's only temporary. I like contact with real people, because I can't fake laughing and fake crying and I expect the same from them. Being successful is important to me, but success is not the key to my happiness. I am still looking for an answer to the question of what is happiness for me and what is my perception of it. God, it turns out that I didn't know myself completely 🙂
But at this point in my life everything is better than I expected. Just a month ago I faced a pleasant challenge, which I took as a new and different experience and now I'm in a really good place surrounded by absolutely amazing people. These relationships and memories will be etched in my mind forever. For me, Lithuania will always be associated with the first feelings of being abroad.
As for my professional aspirations, journalism is my passion. I can't stand injustice and I always point out people's mistakes in relation to others. I like the process of verifying information and enjoy seeing it from someone else's point of view. With my deep faith, I never feel monotony while working.
In my opinion, the main pillar of journalism is facts and that's why I have such a motto: emotions can run high but rely on the facts. It is important to keep lines of communication open and show your concern, but avoid threats and punishment.